Are your teeth stained, chipped, or damaged? Dental veneers could be the solution you've been searching for. These ultra-thin shells, crafted from porcelain or composite resin, seamlessly cover the surface of the affected tooth, effectively masking imperfections such as discoloration, cracks, and chips.
The process of getting dental veneers is straightforward. While it typically requires two visits and the use of local anesthesia, the procedure is minimally invasive. The best part? With proper care, dental veneers can maintain their pristine appearance for well over a decade, offering a long-term solution to enhance your smile.
Considering a transformation?
Schedule your dental veneer consultation with us today!
Getting Dental Veneers at Potomac Dentistry
---
First Visit: Dr. Bawa will assess your dental health and collaborate with you to identify teeth suitable for veneers. An impression of the chosen teeth is taken and sent to our lab, ensuring each veneer is meticulously crafted for a perfect fit.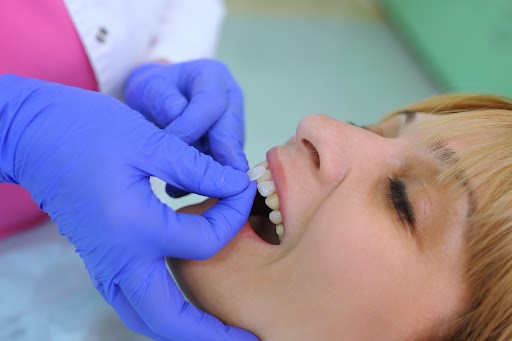 Second Visit: To prepare for the veneer, Dr. Bawa delicately reshapes the tooth by removing a thin layer of enamel. This ensures the veneer fits seamlessly, preventing a bulky appearance. The tooth is then prepped with a bonding agent, allowing for a sturdy attachment. Using specialized lighting, the veneer is secured and finely polished for a natural look.
Veneer Longevity: Crafted from durable composite resin or porcelain, dental veneers are long-lasting. With proper oral care, they remain problem-free, revitalizing your smile in just two visits.
Achieve Your Dream Smile
---
If you're considering veneers to enhance your smile, call us or drop by!
Let's make your dental goals a reality!
Dental Veneer Aftercare Guidelines
---
Good dental hygiene is vital to ensure the longevity and aesthetics of your new veneers. Here's how to keep them in top condition:
Regular Dental Hygiene: Brush and floss after every meal. Regular dental check-ups are essential to spot any potential issues.
Avoid Hard Foods: Refrain from chewing hard candies, ice, and similar items. Opt for soft foods for the first few days post-procedure, steering clear of nuts, hard bread, popcorn, and seeds.
Bite Guard Usage: Wearing a bite guard while sleeping can safeguard against grinding, which could damage veneers.
Mind the Stains: Veneers can be susceptible to staining. It's best to limit or avoid tobacco, red wine, and coffee to keep them looking their best.
Remember, veneers are an investment in your smile. With proper care, they'll stay beautiful for years!
Dental veneers are great options for smile enhancement. Patients should consider different factors like personal needs and costs before making a decision. Our team at Potomac Crown Dentistry is here to answer your questions and help you choose the right procedure. Call us at 301 359 1600 to schedule an appointment.